SERIE SERIES MOSFET Voltage Regulator / Rectifier + CHECK
- CARR5925-SERIE (improved SH847) + connectors
Reduces alternator temperature by 25%, greatly increasing its reliability.
Also suitable for Lithium-Ion - LiFePO4 LFP batteries
3 Year warranty
Plug&Play

Connectors included: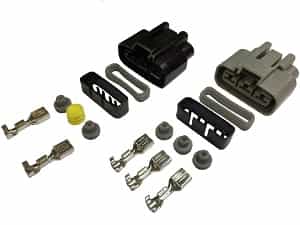 OEM numbers:
SERIE-SH947AA Shindengen
SERIE-SH775 Shindengen

DISPLAY OPTIONS, POSSIBILITIES: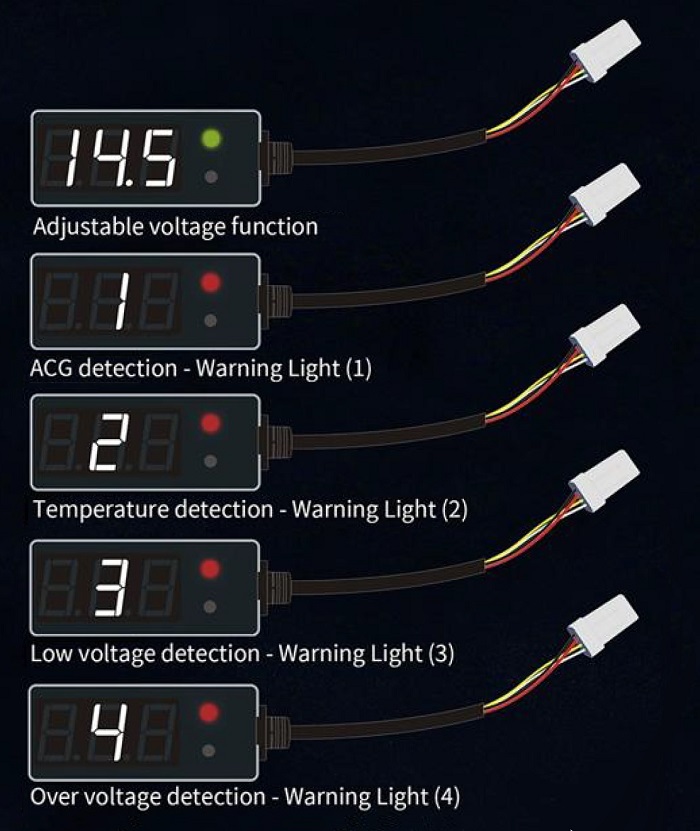 SERIES MOSFET REGULATOR WITH FAILURE DETECTOR
50A / 12V Series (for up to 700W generators)
1. Detection conditions:
A. Alternator detection range between 850 rpm – 5000 rpm:
When the engine rpm is between 850 rpm and 5000 rpm, the inspection frequency is once every 3 minutes.
B. Alternator power between 10% and 33% :
When the AC Generator power is between 10 % and 33% of the total capacity, it will display error detection.

2. Detection function:
Warning Light 1: Stator defect
The stator fase winding wire is shorted to ground or stator fase winding wire is shorted with another fase winding wire, the 'Warning Light 1' will be flashing, as shown in above picture.
Warning Light 2: Temperature detection
When the regulator case Temperature exceeds 105±10 degrees, the warning light will be red and flash the 'Warning Light 2', as shown in above picture.
Warning Light 3: Low voltage detection
12V±0.2V, When the battery voltage is too low below 12V±0.2V, the light will be in red as a warning and display 'Warning Light 3' will flash, as shown in above picture
Warning Light 4: Over voltage detection
When the battery voltage is higher than 16V±0.2V, the indicator will light up in red to warn and flash 'Warning Light 4' , as shown in above picture
3. Adjustable voltage function
- 14V - 14.3V - 14.5V - 14.8V - 15V -
When the button is pressed for the first time to adjust the voltage to 14V, the second time 14,3V, 14,5V, 14,8V, 15V after that again 14V. In sequence and the cycle is adjusted with ±0,2V.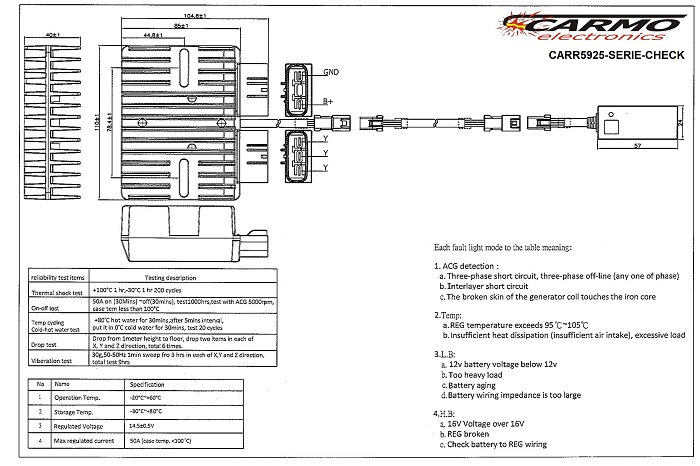 Length of the cable, total 1 meter

Normally the regulator directs all the power from the generator that is not used to ground, this new regulator stops all the power that is not used.
That´s why the generator temperature will be less with this regulator with respect to the OEM regulator.
Another advantage is that the bike will have a little more power when the battery is full, because the stator will not ask energy from the flywheel in that case.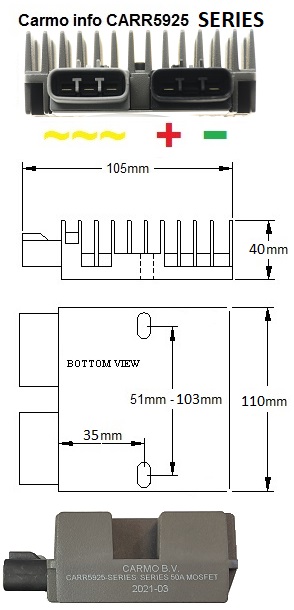 Team-Carmo
Digital ignition systems.
Our digital ignition systems come with 3 years warranty. Production errors, quality issues and internal problems are covered by this warranty.
The Carmo digital ignition systems are protected against high voltage peaks, defective HT coils and reverse battery connection.
This protection means that the Carmo digital ignition will not be damaged immediately in case of faulty electronics in your motorcycle.
Long term use of a motorcycle with faulty electronics may still result in damage to the Carmo digital ignition system.
This means that without solving the electrical issue the Carmo digital ignition could break down after a while.

If research shows that your Carmo digital ignition was damaged by faulty electrical parts, the warranty rights will not be valid.
If this situation occurs we will attempt to repair your ignition system in order to keep the costs as low as possible.
If the system is beyond repair a new product will be offered at a reduced price.
In all cases we will try our best to offer an acceptable solution.

Testing your original ignition module is free of charge when purchasing one of our replacement systems.
During the test we are often able to find out what caused your original module to break down.
This way you will know for sure if your original module really needs replacement, and you'll be able to solve other electrical issues that may not be known yet.

Team Carmo.

There are currently no questions about this product.