MOSFET Regulador de voltaje / rectificador + CHECK
- CARR5925-SERIE SERIES (Mejorado SH847) + connectors
REGULADOR DE MOSFET
Adecuado para baterías de iones de litio
3 año de garantía
Plug&Play

Conectores incluidos: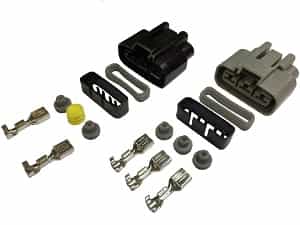 Nueva tecnología avanzada MOSFET de alta potencia: reduce la temperatura del alternador en un 25%, lo que aumenta enormemente su fiabilidad.




DISPLAY OPTIONS, POSSIBILITIES: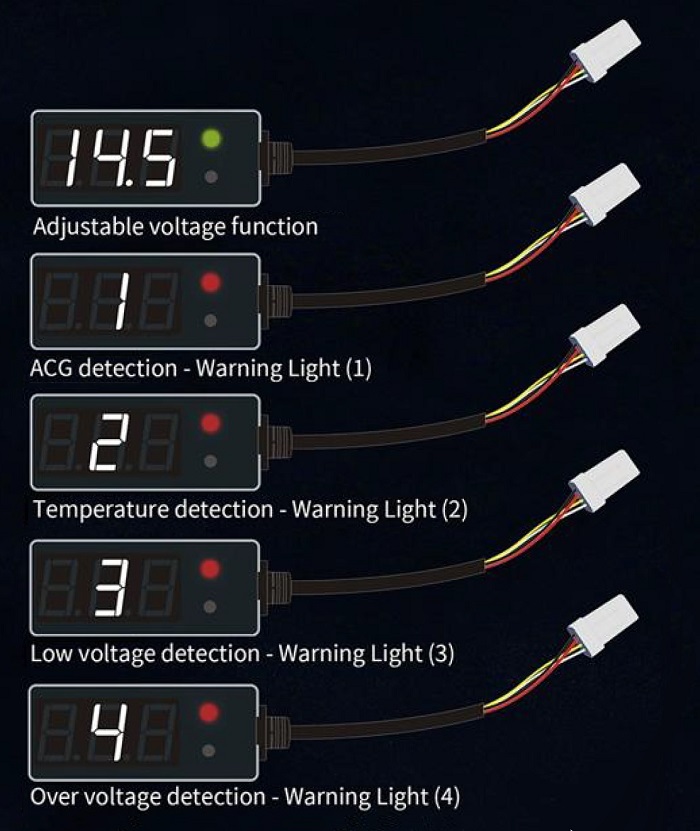 SERIES MOSFET REGULATOR WITH FAILURE DETECTOR
50A / 12V Series (for up to 700W generators)
1. Detection conditions:
A. Alternator detection range between 850 rpm – 5000 rpm:
When the engine rpm is between 850 rpm and 5000 rpm, the inspection frequency is once every 3 minutes.
B. Alternator power between 10% and 33% :
When the AC Generator power is between 10 % and 33% of the total capacity, it will display error detection.

2. Detection function:
Warning Light 1: Stator defect
The stator fase winding wire is shorted to ground or stator fase winding wire is shorted with another fase winding wire, the 'Warning Light 1' will be flashing, as shown in above picture.
Warning Light 2: Temperature detection
When the regulator case Temperature exceeds 105±10 degrees, the warning light will be red and flash the 'Warning Light 2', as shown in above picture.
Warning Light 3: Low voltage detection
12V±0.2V, When the battery voltage is too low below 12V±0.2V, the light will be in red as a warning and display 'Warning Light 3' will flash, as shown in above picture
Warning Light 4: Over voltage detection
When the battery voltage is higher than 16V±0.2V, the indicator will light up in red to warn and flash 'Warning Light 4' , as shown in above picture
3. Adjustable voltage function
- 14V - 14.3V - 14.5V - 14.8V - 15V -
When the button is pressed for the first time to adjust the voltage to 14V, the second time 14,3V, 14,5V, 14,8V, 15V after that again 14V. In sequence and the cycle is adjusted with ±0,2V.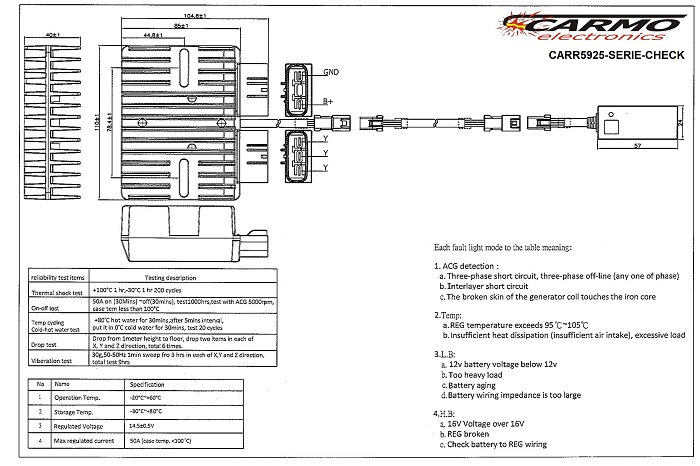 Length of the cable, total 1 meter


Normalmente el regulador dirige toda la potencia del generador que no se usa a tierra, este nuevo regulador detiene toda la energía que no se utiliza.
Es por eso que la temperatura del generador será menor con este regulador con respecto al regulador OEM.
Otra ventaja es que la motocicleta tendrá un poco más de potencia cuando la batería esté llena, ya que el estator no pedirá energía al volante en ese caso.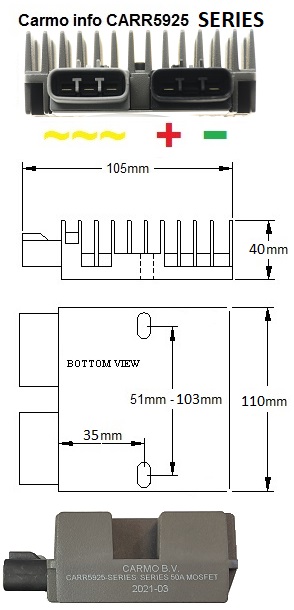 Team-Carmo
Sistemas de encendido digital.
Nuestros sistemas de encendido digital vienen con 3 años de garantía.
La garantía cubre los errores de producción, problemas de calidad y problemas internos.
Los sistemas de encendido digital de Carmo están protegidos contra picos de alto voltaje, bobinas de HT defectuosas y conexión de batería inversa.
Esta protección significa que el encendido digital Carmo no se dañará de inmediato en caso de que haya elementos electrónicos defectuosos en su motocicleta.
El uso a largo plazo de una motocicleta con componentes electrónicos defectuosos aún puede dañar el sistema de encendido digital Carmo.
Esto significa que sin resolver el problema eléctrico, el encendido digital Carmo podría romperse después de un tiempo.
Si la investigación muestra que su encendido digital Carmo fue dañado por piezas eléctricas defectuosas, los derechos de garantía no serán válidos.
Si ocurre esta situación, intentaremos reparar su sistema de encendido para mantener los costos lo más bajo posible.
Si el sistema no se puede reparar, se ofrecerá un nuevo producto a un precio reducido.
En todos los casos haremos nuestro mejor esfuerzo para ofrecer una solución aceptable.
La prueba de su módulo de encendido original es gratuita al comprar uno de nuestros sistemas de reemplazo.
Durante la prueba, a menudo podemos descubrir qué causó que su módulo original se descompusiera.
De esta forma sabrá con certeza si su módulo original realmente necesita reemplazo, y podrá resolver otros problemas eléctricos que aún no se conocen.

Team Carmo.

There are currently no questions about this product.
¿Por qué elegir Carmo?
Precios de reparación Filjos
Mayoría de productos en stock