Improved Suzuki VS1400 CDI Replacer J4T02171 J4T02471
Plug&Play
For:
Suzuki VS1400 Intruder CDI
Suzuki VS1400GLPS Intruder CDI
1987 1988 1989 1990 1991 1992 1993 1994 1995
Note: some Suzuki VS1400 from these years have a CDI with a 8 pole connector instead of the 6 pole connector. For that CDI, please see this product.
On the box:
J4T02171
J4T02471
32900-38B00
32900-38B10
Other names:
EC Ignitor, brain, ignition module
CDI, ECU, ECM computer, Black Box, Ignitor
ignition control module, spark box
Ignition Spark Control Module
CDI Ignition

Your bike will perform better with this advanced ignition unit from Carmo electronics!
Improved version from this well known ignition unit.
What's improved/better compared to the original unit:
- The unit is protected against overvoltage (defect voltage regulator/rectifier, bad battery, ...).
- The unit is protected against a defect ignition coil and reverse battery connection.
- The unit has a acceleration correction, when the bike rev's up the ignition delay will be a bit more (in proportion). Smoother acceleration.
- The unit uses digital technique, so it is more accurate and temperature changes have no influence, the curve is also optimized for more power.
- When the battery voltage changes the unit will change the control to the ignition coil so the spark power will stay the same.
- Start mode, during engine start the unit will give more current to the ignition coil for a faster start.

3 Year warranty

Team-Carmo
Sistemas de encendido digital.
Nuestros sistemas de encendido digital vienen con 3 años de garantía.
La garantía cubre los errores de producción, problemas de calidad y problemas internos.
Los sistemas de encendido digital de Carmo están protegidos contra picos de alto voltaje, bobinas de HT defectuosas y conexión de batería inversa.
Esta protección significa que el encendido digital Carmo no se dañará de inmediato en caso de que haya elementos electrónicos defectuosos en su motocicleta.
El uso a largo plazo de una motocicleta con componentes electrónicos defectuosos aún puede dañar el sistema de encendido digital Carmo.
Esto significa que sin resolver el problema eléctrico, el encendido digital Carmo podría romperse después de un tiempo.
Si la investigación muestra que su encendido digital Carmo fue dañado por piezas eléctricas defectuosas, los derechos de garantía no serán válidos.
Si ocurre esta situación, intentaremos reparar su sistema de encendido para mantener los costos lo más bajo posible.
Si el sistema no se puede reparar, se ofrecerá un nuevo producto a un precio reducido.
En todos los casos haremos nuestro mejor esfuerzo para ofrecer una solución aceptable.
La prueba de su módulo de encendido original es gratuita al comprar uno de nuestros sistemas de reemplazo.
Durante la prueba, a menudo podemos descubrir qué causó que su módulo original se descompusiera.
De esta forma sabrá con certeza si su módulo original realmente necesita reemplazo, y podrá resolver otros problemas eléctricos que aún no se conocen.

Team Carmo.

There are currently no questions about this product.
Los clientes que compraron este producto también compraron...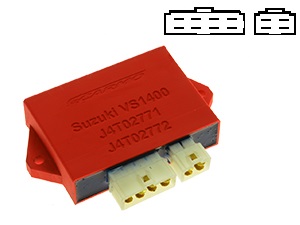 €422,29
Inc VAT
€349,00
Ex VAT
¿Por qué elegir Carmo?
Precios de reparación Filjos
Mayoría de productos en stock