Carmo Electronics peut rembobiner / réviser cet alternateur / stator pour vous ou vous en livrer un rembobiné / révisé en rupture de stock.
Nous offrons une garantie de 1 an sur le rembobinage du stator.
Le temps de rembobinage / reconditionnement est d'environ 3 à 5 jours ouvrables, ou fourni directement à partir du stock (supplément / dépôt appliqué, voir les informations ci-dessous)

Vous devez nous envoyer votre ancien stator d'alternateur afin que nous puissions le rembobiner pour vous.
Cliquez ici pour le système de tickets
Ou....


Ce stator peut être acheté avant de nous envoyer votre ancien stator défectueux. Il y aura un supplément appliqué qui vous sera retourné après réception de votre ancien stator défectueux.
Veuillez noter que votre ancien stator n'est accepté que si l'ancien stator est une pièce d'origine et en bon état mécanique; si, par exemple, une partie du noyau métallique du stator est cassée, nous ne pouvons pas rembourser le supplément. Envie de reprendre la route le plus tôt possible? Cliquez

CE LIEN

pour ajouter le supplément à votre panier. Votre commande sera expédiée sans avoir à attendre que votre ancien stator arrive chez nous.

Comment faisons-nous ça?
- Votre alternateur est d'abord dépouillé jusqu'au noyau métallique.
- Après cela, le noyau de votre stator sera nettoyé et sablé.
- Maintenant, le noyau du stator sera isolé avec une couche de revêtement plus épaisse que l'OEM. Cela réduit considérablement le risque de brûlure de votre stator.
- L'étape suivante consiste à rembobiner le stator avec du fil de cuivre de haute qualité.
- Enfin une couche de revêtement protecteur sera appliquée pour une meilleure protection thermique.
- Votre alternateur est maintenant prêt à l'emploi!

Aprilia Numéros:
Aprilia #897479
Aprilia 2D000049
Aprilia AP0685330
Aprilia AP0295830
Aprilia RSV1000
Aprilia RSV1000R
Aprilia RSV Mille
Aprilia Tuono
Vous pouvez expédier votre stator à
CETTE
adresse
Team-carmo
Digital ignition systems.
Our digital ignition systems come with 3 years warranty. Production errors, quality issues and internal problems are covered by this warranty.
The Carmo digital ignition systems are protected against high voltage peaks, defective HT coils and reverse battery connection.
This protection means that the Carmo digital ignition will not be damaged immediately in case of faulty electronics in your motorcycle.
Long term use of a motorcycle with faulty electronics may still result in damage to the Carmo digital ignition system.
This means that without solving the electrical issue the Carmo digital ignition could break down after a while.

If research shows that your Carmo digital ignition was damaged by faulty electrical parts, the warranty rights will not be valid.
If this situation occurs we will attempt to repair your ignition system in order to keep the costs as low as possible.
If the system is beyond repair a new product will be offered at a reduced price.
In all cases we will try our best to offer an acceptable solution.

Testing your original ignition module is free of charge when purchasing one of our replacement systems.
During the test we are often able to find out what caused your original module to break down.
This way you will know for sure if your original module really needs replacement, and you'll be able to solve other electrical issues that may not be known yet.

Team Carmo.

There are currently no questions about this product.
Les clients qui ont choisi ce produit ont également acheté ...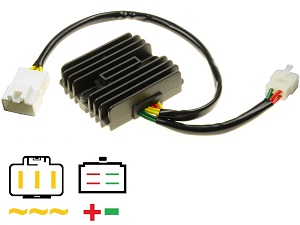 €102,25
TVA incluse
€84,50
De la TVA
Pourquoi choisir Carmo?
Jusqu'à 3 années garantie
Fixé tarifs de réparation
La plupart des produits en stock
Réparation dans les 3 jours