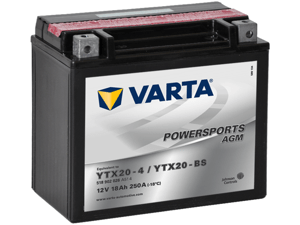 Vertrouw op VARTA®
Waar uw reis ook naartoe gaat, VARTA-batterijen bieden u alle energie om u ter plekke te krijgen. Of u nu met uw allereerste auto rijdt, een voertuig met Start-Stop-functionaliteit hebt of met een voertuig rijdt dat hoge stroomeisen stelt, VARTA's Black, Blue en Silver Trio Dynamic-batterijen bieden u de energie die u nodig hebt.
Tegenwoordig zijn onze producten te vinden in miljoenen auto's, motorboten, motoren en campers. Elke VARTA-batterij is standaard opgeladen met expertise en precisie. VARTA-batterijen gaan langer mee, zijn minder gevoelig voor corrosie en hebben een lagere Total Cost of Ownership (TCO), kwaliteiten die u aantreft in al onze producten, van onze geavanceerde Start-Stop-producten voor auto's tot onze Professional-producten voor speedboten. Als u kiest voor VARTA, kiest u voor betrouwbare precisietechnologie in producten van topkwaliteit die optimale prestaties leveren.
Innovatie met een boodschap – VARTA-batterijen vormen de drijvende kracht achter brandstofbesparende innovaties zoals Start-Stop-systemen. VARTA-batterijen worden geproduceerd met tot 20 % minder uitstoot, uw auto start keer op keer en uw brandstofverbruik zal aanzienlijk worden teruggebracht.
Een premiumbeleving – Breng uw voertuig naar een VSSP-gecertificeerde garage om de uitstekende vervangingsservice te ondergaan. Bovendien biedt het VSSP-serviceprogramma uw Start-Stop-voertuig de Roadside Assistance (het pechhulpprogramma met mobiliteitsgarantie).
Een buitengewone geschiedenis – Het merk VARTA schrijft al meer dan 125 jaar lang geschiedenis. Grote autofabrikanten voorzien hun auto's af fabriek met VARTA-batterijen en ook automobilisten over de hele wereld vertrouwen massaal op VARTA-batterijen.
Ondersteund door de wereldwijde marktleider
VARTA-batterijen worden ondersteund door Johnson Controls Power Solutions, wereldwijd marktleider op het gebied van lood-zuurbatterijen en moderne batterijen voor conventionele, Start-Stop, hybride en elektrische voertuigen. En het eerste bedrijf dat lithium-ion-batterijen in massaproductie produceert voor hybride voertuigen. Tegenwoordig vertrouwen miljoenen mensen over de hele wereld op onze innovatieve producten.